"

Give a man a mask and he will tell you the truth"
— Oscar Wilde... or Maybe it was Paul Stanley
All About Hal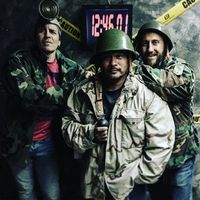 I was born in Cincinnati, Ohio, raised in Kentucky – a little town called Peaks Mill. Don't strain your brain, you've never heard of it. I lived in the sticks, I was a boy Scout, started taking karate there when I was 8 years old, saw The Shining when I was 7, didn't have a TV so I spent most of my life listening to comedy records – when I wasn't at the movies.
I've always been a bit of a video game nut, and back then, that meant that you actually had to stand at a video machine for hours (you kids today!). When I was 14, I decided I'd had enough of "country livin'" and moved to Chicago to live with my Dad, where I went to New Trier High School, a huge school with a great theater department that, quite frankly, should have expelled me. But, much to their credit, they didn't, and I was able to start doing standup at 15 years old. (P.s., Thanks Mrs. Adams. You saved my ass and gave me a career.)
I won the Funniest Teenager in Chicago contest when I was 17 years old, the same year I starred in Frog, starring Elliott Gould, Shelley Duval and Scott Grimes. I also hosted a game show called "Treasure Mall"– we won't talk about that.
I graduated from high school and, sixteen days later, I packed all my stuff in my car and I drove to LA. The next ten years I call "the Sisyphus years" – career-wise, every day I would roll the rock up the hill, and every night it would roll back down. But I kept plugging away, watching people I had moved to LA with or worked with pack up and go home, year after year.
In 1997, I felt I'd strayed too far from standup comedy and decided to go at it 100% again. For the next two years, I did standup every single night. Yes, Christmas and holidays. On June 26, 1999, I got Talk Soup. I was on the air the following Tuesday after the July 4th weekend.
You might know me from Queer As Folk, Dude, Where's My Car?, I Love the 80s, Lab Rats or from my Stand Up or my Band ZERO 1.. And if ya didn't, ya do now.
And the rest, you can Google… I mean, there's obviously a lot more. But quite frankly, it's none of your business.
Until I decide to sell a book.
Hal